Duke kerkuar per nje video chat falas HTML5 ?
Best webcam chat script
First chat To be Chrome/Firefox/Edge/Safari. Iphone AND Android compatible
Provoni Chat me kamer dhe mikrofon ne HTML5 falas: ne 1 klikim merrni vete !.
We have the most complete video chat for your website, done in html5 and easy to integrate.
You choose Between Flash and WBERTC technology for streaming.
Html5 chat includes now real time Webrtc multi chat
html5-chat ju lejon të zgjidhni mënyra të ndryshme dhe ta rregulloni atë në pafundësi: një bisedë me shumë përdorues, një ruletë chat, një konferencë, një chat1to1 apo edhe një 'liveshow' të një stili chat. Ju mund t'i bëni të gjitha me një produkt të vetëm
Webcam video chat totally customized and free.
Get your own HTML5 video chat for your website or your blog.
Moderate it and customize it as you want
Easy to integrate, easy to admin
Includes live webcam streaming
Mesazhe private ose publike
Tabbed or windowed style
Webcam and chat on invitation
Active accounts: 19467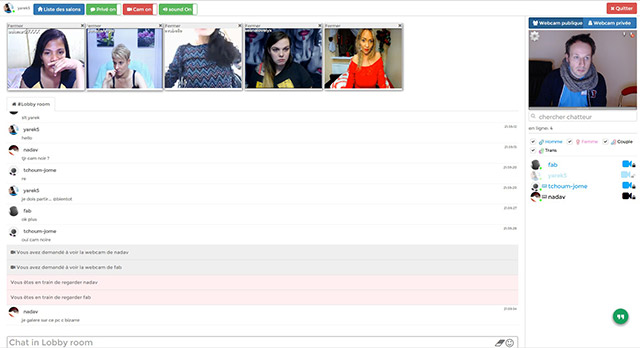 Here are some features of our video webcam chat:
based on nodejs / sockets compatible with all browsers
3 differents modes : tabbed mode, windowed mode or conference mode
Multi webcam support : stream and watch online users
full admin panel
Look and feel as you want !
integrate to any existing website just with 1 line of code
auto login features to be integarted with your existing users database
Moderation features Inludes moderation features kickban
modern, pure GUI, easy to customize to your needs
More than 100 features included
Full user managment
Gender managment
full screen webcam streaming
and so much more...